Design Support System for Digital Signage
Vote freely anywhere!! Interface with digital signage
This study is an attempt to construct a practical support system for cooperative design using Interactive Evolutionary Computation (IEC).
In studying IEC, the evaluation load of users becomes problematic. As evaluation load increases, user motivation to evaluate is reduced, and the system cannot acquire appropriate evaluations. In this study, we addressed this problem by using digital signage as the system interface. Digital signage is a general term for the electronic advertisements seen in various places, especially cities.
The proposed system creates various designs, and presents them to users. Using digital signage to present the designs increases the number of times that users can vote, which we believe maintains user motivation to evaluate.
What design do you like? A support system for fashion coordination
For this study, we constructed a fashion coordination system using IEC and digital signage.
Many people are interested in fashion. This system helps to identify the favorite designs of multiple users and to analyze their votes to establish what kinds of design are of interest to them. We expect the proposed system to have practical application in various settings such as retail stores.

Summary of support system for fashion coordinates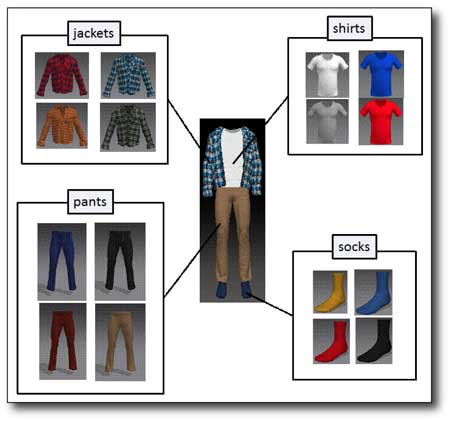 Example of coordinate design
Evaluation experiment with real users
Based in the grounds of a university, this study was an experiment to verify the effectiveness of the proposed system. The concept was to create favorite coordinated designs. We placed the system at a university location where many people usually gather. An unspecified number of passersby voted for their favorite designs. The experimental results showed that the created designs reflected the preferences of many users, confirming the effectiveness of the proposed system.

Experiment image
References
M.Sakai, H.Takenouchi, M.Tokumaru, "Design Support System with Votes from Multiple People using Digital Signage", 2014 IEEE Symposium Series on Computational Intelligence (SSCI 2014), ISIC2014 proceedings, pp.26-31, 2014-12 (Orlando, Florida, USA).